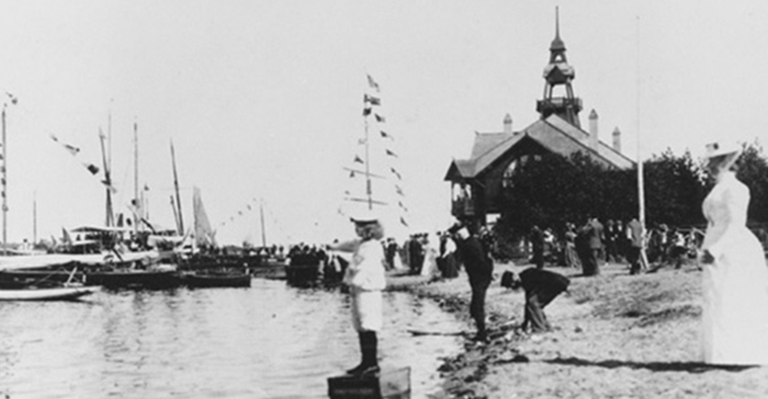 KSSS history
KSSS is one of the world's five oldest sailing clubs and the second oldest sports association in Sweden after Uppsala Simsällskap. KSSS was founded in Stockholm in 1830 under the name Svenska Segel Sällskapet and gained royal status in 1878 when the club also got its current name - Royal Swedish Yacht Club.
The society was founded on what is now Skeppsholmen by some of the city's wealthy citizens who, under a common flag, wanted to arrange sail races in the vicinity of Stockholm.
The society had a strong period of growth during the last decade of the 19th century and the first 20 years of the 20th century. The reason for this was that the sailboats had then become manageable in size and costs and that a number of class rules were born. In addition, the motorboat as a pleasure boat, came to Sweden in the quarry between the 19th and 20th centuries.
During the 1920s and 30s, the club won international acclaim through good efforts by sailors such as Sven Salén, Tore Holm and Erik Lundberg. This, in conjunction with a very active sailing fleet on the waters around Sandhamn, contributed to the club's good reputation.
At this time, KSSS sailors were also leaders in the development of the sport of sailing and its equipment. For example, Sven Salén developed both the genoa jib, developed the equilateral spinnaker and the use of an up and down haul on the spinnaker pole.
The success has continued and over the years the club members have won basically all major international competitions, such as Fastnet Race, Sydney Hobart Yacht Race, The Ocean Race (former Whitbread/Volvo Ocean), Gold Cup, SORC, TP 52, Mini Maxi Cup and One Ton Cup, to name a few. Furthermore, KSSS sailors have won no less than 15 Olympic medals over the years in the form of five gold, five silver and five bronze, most recently a gold in London 2012 through Fredrik Lööf and Max Salminen.
In the 1960s, plastic boats became popular, which made boat ownership accessible to the general public, which in turn led to a major upswing also for leisure sailing and sailing as a sport. This also meant the big breakthrough for KSSS's internationally renowned ocean racing Gotland Runt. The race has since then been on many sailors bucket list and is the leading ocean race in northern Europe. The race has developed over the years and since 2011 the start is located in the middle of Stockholm.
Over the years, in addition to racing, the business has developed with camp activities, junior training, squadron sailing and also a number of social events.
---
LINKS